The Bird Park
The Bird Park is the only institution in the world focused on the conservation of Atlantic Forest birds. The birds of the Atlantic Forest are beautiful, lush and unique, and the Park offers visitors the opportunity to experience an immersive connection with them and the forests they inhabit. This made the Bird Park become the most visited attraction of Foz do Iguaçu after the Falls.

The Birds Park began to be built in 1993 by a couple Anna-Sopphie and Dennis Croukamp, who won a couple of birds and after the suggestion of a friend and because they liked birds decided to buy 16 hectares of land and build the Park of the Aves, today the park works for a better world and in the preservation of thousands of animals, nowadays the park counts on more than 1,400 birds of about 150 species, being more than 50% of them coming from seizures. Today the Bird Park is the largest in Latin America.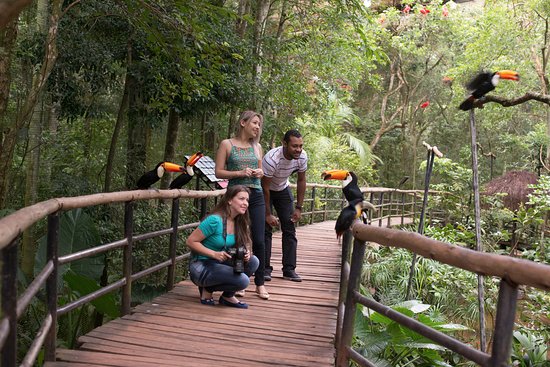 For those who visit the Park there is a walk through the native forest with trails, passing through nurseries, I contact with animals and nature, besides birds the visitor can observe reptile and butterflies and at the end of the walk take a walk in the souvenir shop and who knows how to make a snack from the park the ride lasts for between 1 to 2 hours.