Iguaçu Falls
The Iguaçu Falls annually receive more than 1 million visitors, being recognized worldwide for their beauty. Located inside the Iguaçu National Park, on the border between Brazil and Argentina (in the cities of Foz do Iguaçu and Puerto Iguazú), it has a structure qualified for tourist reception, with a visitor center, parking, hotel, restaurant, souvenir shops, food court, walking trail for access to the falls and additional tours.
Macuco Safari
Black Well Trail
Trail of the Falls
Helicopter tour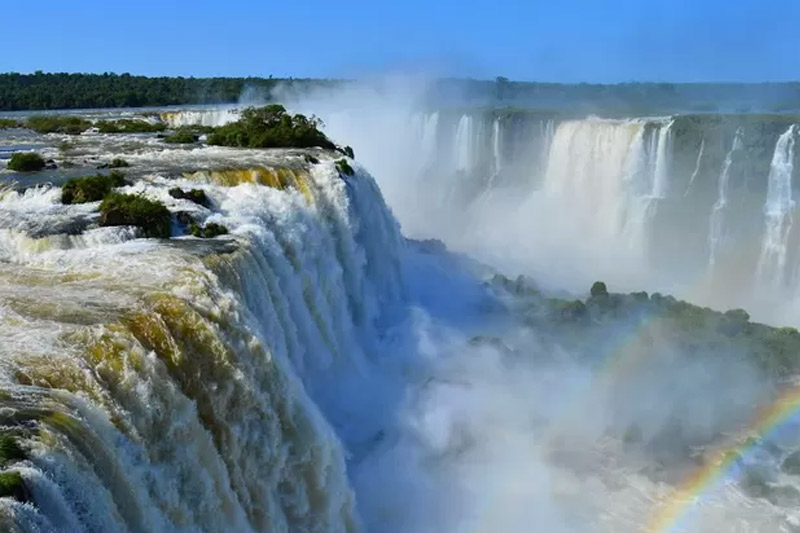 Macuco Safari
One of the most sought after tours by tourists traveling to Foz do Iguaçu is Macuco Safari. Held inside the Iguassu National Park, the tour takes visitors on an adventure under the falls of the Iguassu Falls.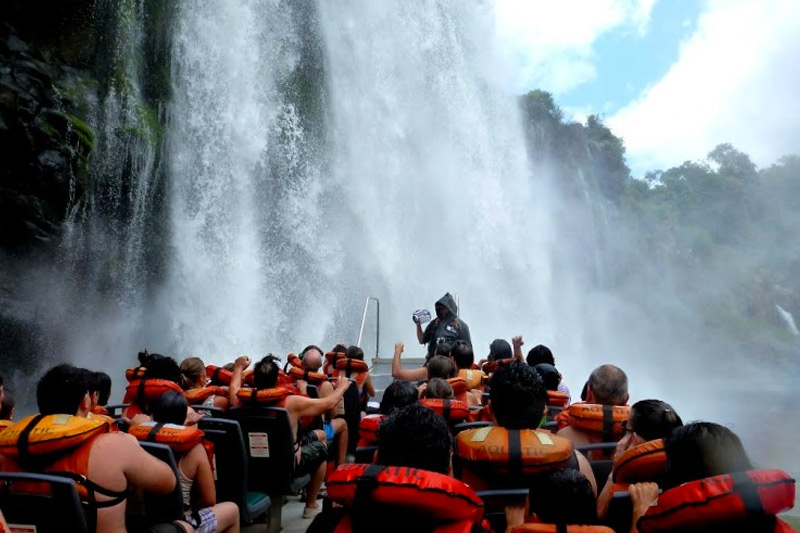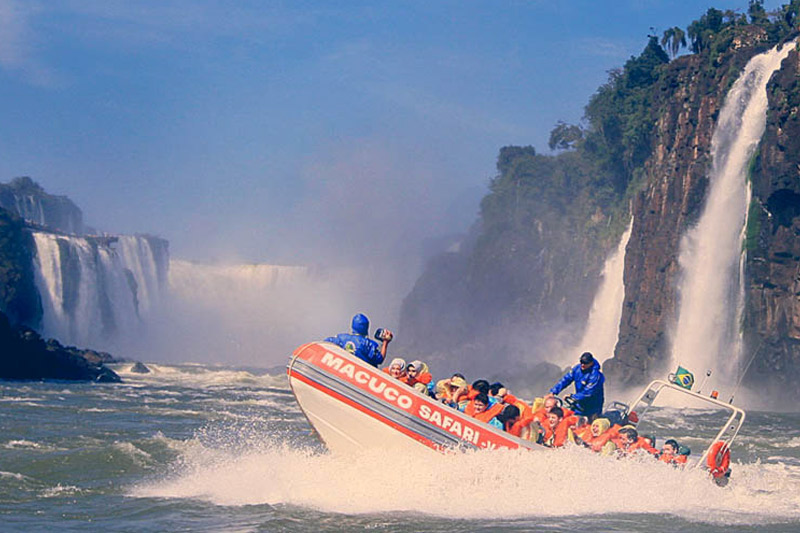 Black Well Trail
Trail suspended in the woods where the road is all without degrading nature. This trail takes you to the banks of the Iguaçu River, which can be made either bycicletea or walking. The entire route is completely silent being possible to see several birds and native plants.
Arriving at the river begins the adventure in the waters where it is possible to understand the name "Poço Preto". To finish the ride you could go down the river paddling in ducks (inflatable boats).
The fun is guaranteed and the water mess takes everyone back to childhood. With the help of a guide who is always present this tour becomes a real life lesson.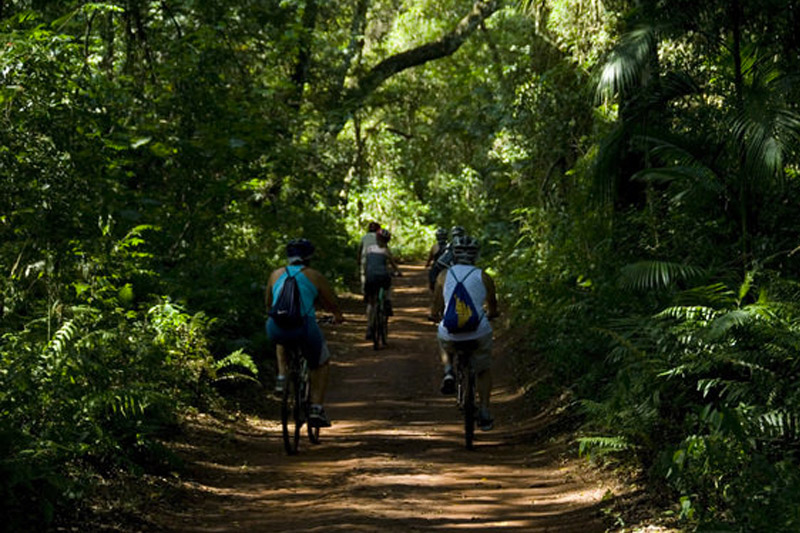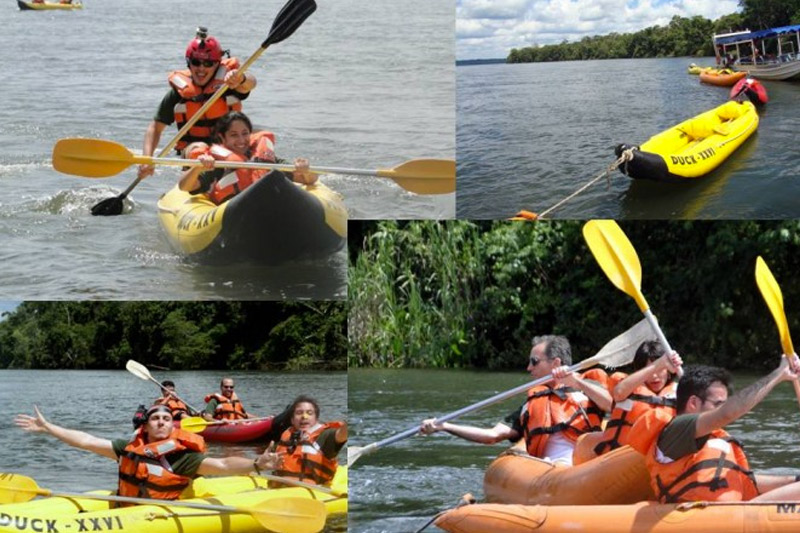 Trail of the Falls
the ride lasts from 2 to 4 hours, starting with the bus ride by the BR-469, from the Visitors Center to the beginning of the trail, during this route there are stops for the additional tours. The trail is carried out walking, by a path in the middle of the forest, with open spaces for observation of the Iguassu Falls in some points of the route. At the end of the trail, there is an observation walkway that completes the walk, reaching the point known as "Devil's Throat".
After the trail, there is a memorial for Alberto Santos Dumont, as well as a food court, and the restaurant Porto Canoas. Here there is the bus boarding for the return to the Visitor Center.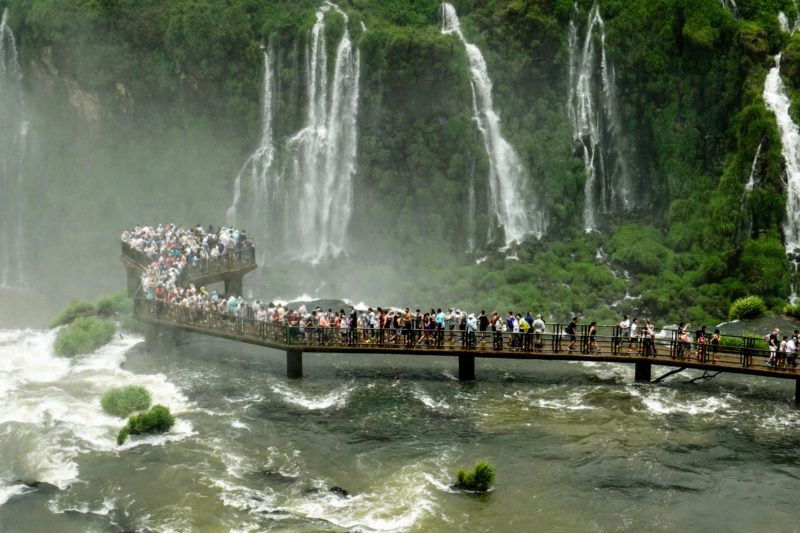 Helicopter tour
For who enjoy adventurous tourism, Foz do Iguaçu provides the Helisul, a helicopter ride to see the falls from an incredible angle, Helisul promotes these tours in Foz do Iguaçu since 1972.
And if you are concerned about your safety, all flights and operations comply with the laws, rules and regulations of aviation, the environment and especially the most stringent safety standards. The flight takes 10 minutes of adrenaline and a beautiful view of one of the 7 wonders of nature.